Acknowledgement is given to the work of Philip G M Dickinson F.S.A., F.R.Hist.S. in adding to the history of Great Paxton and its church.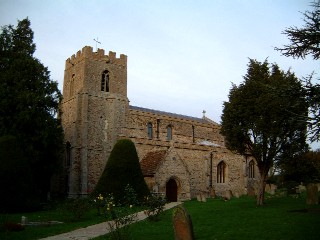 Photograph © Martin Edwards 2001

The Minster church of Great Paxton is one of the most interesting and remarkable of the larger late Saxon churches remaining in England, but is comparitavely unknown because it has not received the publicity that other Saxon churches have. Until recently, its true status was unknown, but research undertaken for a visit of the Royal Archaelogical Instititute in 1967 clearly established that it belonged to a Minster founded late in the pre-conquest era.
The ecclesiastical organisation of 1000 years ago was very differerent from that of today; then there were no parishes as we now recognise them. The conversion of England to christianity for a long time was based on missionary activity which, at a later period, came under the control of certain 'central' churches to which the name 'Minster' was given. The church at Great Paxton was one of these Minster churches, and is dedicated to the Holy Trinity.
The church building consists of a chancel, nave, north aisle, south aisle, west tower, a modern vestry at the west end of the north aisle, and a south porch. The walls are of rubble with stone dressings, and the roofs are covered with tiles, slates and lead.
The church is mentioned in the Domesday survey of 1086, and of this building the piers of a central tower and two and a half bays of the north and south arcades still remain. Originally the nave must have had four bays as evidenced by the position of the porch, and these probably remained until the west tower was built. Meanwhile, the chancel had been rebuilt towards the end of the 13th century, and some 50 years later a south porch was built.
Late in the 14th century much reconstruction took place. the western bays of the nave were taken down and a sturdy tower built in their place. The central tower (recording the Minster status) probably disappeared at this time, and certainly the east and south arches of the crossing were reformed. In the following century, both aisles were rebuilt, buttresses were added to the chancel and a new east window inserted; somewhat later still, new side windows were put in.
The church was completely restored in 1880, when the vestry was added.
Excavations in August 1971 unexpectedly found the original Saxon foundations to be intact and standing to a height of three feet.